We describe the method of Crop net as to preserve vegetables. This crop netting is one of the part of crop-net – that's a product contained of polypropylene. By using crop net technique man will get more comfortless in harvesting, pruning.
Vertical crop netting technique
Also this type of grow net technique covered most of the cultivated area. If you decide this crop netting technique then you should have to remember that they must have to place at a distance between 1.5 to 8 meters. This distance is varied depends on crop type.
The best method is: before you will plant or seeding you have to set-up the crop-net 30-40 cm above the ground. If you will do plant training net at Greenhouse then you have to be install 3m high at roof structure.
Main advantage of this vertical crop netting technique is that agricultural chemical products use is significantly reduced. If we grow hybrid varieties crop can need a higher spalier.
In vertical fertilizing you require less labor because plants will grow vertically and for that you require at-most 2 man power only.
If you wanted to plant tomatoes, peppers then you have to applied horizontal technique if you used this technique then the crops are elevated and these plants are sustained by poles. This crop-net has assuring healthy production. It's particularly recommended for solanaceae.
Horizontal installation
This technique is particularly useful for peppers and tomatoes crops. Crop-net technique support increases aeration and it also prevents diseases. Moreover deteriorated fruit loses its market value that also prevented by crop-net.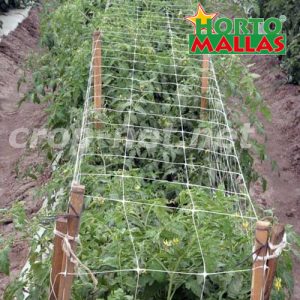 There are lots of benefits of crop netting technique
Many people around the words are using these methods to save their high priced crop.
If we plants will grow on ground then it will be most affected by – fungus, bacteria.
Insects are the source of viruses and just because of Crop-net this virus spreading is limited.
Netting is used to protect crops from direct sunburn. Sometimes direct sun ray damage the crops and lead to heavy loss.
You require very less tree cooling and reduces the risk of disease incidence.
Netting provides high yield in comparison to others.
Provides your crops from snow damage.
They will avoid your crop from bird damage
You can simply avoid your crop from damaging by hail or heavy rains.
This is really most successful cropping method used by growers. This helps them to increase yield and good return on investment. You must choose a good client who can provide a good cover and infrastructure for your crop. Often a loose installation might turn wastage of your money as well as your crop. Before choosing an installer, you must ensure he should have good track record and user reviews.
Crop-net is available in different sizes. But the preferable size is 25cm * 25 cm. Most of the fruits are reduced just because we can't able to reach a tree so by using grow net – It's highly useful to sustain heavy crops also like watermelon.
We can do vertical as well as horizontal farming but vertical farming is more efficient than horizontal as cultivation area is also covered and one of the main advantage is man power is also reduce.
In HORTOMALLAS you can find these different nets.